Browsing articles in "Washington D.C."
Twenty one things I did when I was 21 years old.
#1
Organized TEDx, an independently organized TED (Technology, Entertainment, Design) event with an awesome team. TEDxGurneyDrive was held for the first time ever in Penang.
#2
Went to Kuching and saw Rafflesia, the world's largest flower.
I used to say I will not go back to Kuching until Kim and Bryan 's wedding, but paradigm has shifted and I will go there more often.
#3
Had a 20min closed-door mentoring session with the Prime Minister of Malaysia in Youth Nation Summit, which was organized by myHarapan and AIESEC Malaysia.
We discussed about social entrepreneurship and he laughed when I told him that PTPTN (student loan) is the main source of project funding.
#4
Started a medical fundraising campaign for a good friend of mine.  With the help of hometown friends, Krian Ex Scout and generous public, we raised RM 360,000 within 45 days.
Kuan Kyn is now undergoing treatment in Taiwan and we pray for him to recover soon.
#5
Flew across the Pacific Ocean to the United States.
And saw Alaska from the sky.
#6
Sponsored by the U.S. Department of States for Global Undergraduate Exchange Program to study in the US for 2 semesters.
Lived as the only Malaysian in my host institution, Marymount University.
Truly learnt to be independent and embraced the diversity of cultures.
It really doesn't matter to me whether you're white, black, yellow, gay or straight; I made friends with everyone cause we are all homosapien.
Learnt to speak Spanish and made friends from countries which I was not familiar with, such as Albania, Coasta Rica, Dominican Republic, El Salvador, Ethiopia, Fiji, Uzbekistan to name a few.
#7
Away from home for almost a year.
#8
Went to New York City for 5 times, but still did not see King Kong. 
#9
Lived in Washington D.C. and covered almost every attraction in the metro area.
Such as most of the Smithsonian museums, inspiring monuments, George Washington's house at Mt. Vernon, JFK's tomb at Arlington Cemetery, cruised on the Potomac River for Cherry Blossom Festival, got a memberships  card for the Library of Congress and went into the White House.
#10
Experienced snow for the first time.
What made it more special was the early snow fell in October. You can still see the colorful Autumn leaves.
#11
Had a decent Thanksgiving Dinner with Joey's family at Eastern Shore, Maryland.
#12
Scored 4 flat for the first time in college. Still very much an Asian, not Bsian. LOL
#13
Traveled to more than 15 US cities in a short span of 10 months.
From cycling across the Golden Gate Bridge,
to cycling at a countryside
Had coffee at the first Starbucks store in Seattle
Boarded an aircraft carrier at San Diego
To New Year countdown at the City of Angels; I've learnt that the world is so big yet it has become smaller than ever, and there is nothing cannot be achieved if you're armed with a strong perseverance, determination and little luck.
#14
Interned at the World Bank Group. Met amazing individuals and learnt how this organization works. I was sitting in the office of Alternative Executive Director of South East Asia, a position held by a Malaysian woman from Kuching.
Interned in the Washington DC Economic Partnership, the first point of contact of businesses in the capital. Learnt how the city functions and also studied on different business improvement districts. I passed the White House, which is 1 street next to the office, every time I went to work.
#15
Selected as the only 3 Malaysians to participate in Clinton Global Initiative Univeristy, and shared a light moment with Bill Clinton.
And also his lovely daughter, Chelsea Clinton.
Being in Washington D.C. gave me a lot of opportunities to meet individuals from different arena, such as the Secretary General of NATO who's also the former Prime Minister of Denmark.
Meeting Director of National Security Agency (NSA), a term I learnt 7 years back in Dan Brown's fiction Digital Fortress.
#16
Visited 10 embassies in 1 day at Passport DC 2012.
#17
Enjoyed the beach by the Atlantic Ocean.
#18
Paid tribute to Steve Jobs at 5th Avenue and bought my 1st Apple product.
#19
Saw the painting Starry Night by Vincent van Gogh.
Earth without art is just "eh".
#20
Went for a 2 hours Open Heart Surgery Observation. It was an artery bypass surgery to replace Aortic valve of a 82-year-old.
#21
Woke up early in the morning to see Discovery Space Shuttle. It flew directly above me on the sky of Washington D.C.
###
21-year-old had been a great one. I am truly lucky and grateful for being able to meet amazing friends and experienced many once-in-a-life-time opportunities.
I appreciate people who has helped and supported me along the way. I remember and will do the same.
Today, I am 22.
And I look forward to a better year. Cheers!
In daily life we see that it is not happiness that makes us grateful, but gratefulness that makes us happy. - Brother David Steindl-Rast
I am always a big fan of science and technology, especially in things that move such as jet plane, air craft carrier and space shuttle. They are the vivid examples of what man can achieve and how our life can be changed with the advancement of technology.
When I first knew about space shuttle Discovery was going to fly historically over Washington D.C. – I made up my mind to go.
I took the metro early in the morning to Crystal City station – and walked on this trail to Gravelly Point, the best spot to see air planes taking off and landing at Washington Ronald Reagan National Airport. It was suggested as one of the nicest places to see space shuttle Discovery.
Discovery, NASA's oldest surviving orbiter, blasted off on its maiden voyage on August 30, 1984. It ultimately flew 39 missions, covering 148 million miles and 5,830 orbits, logging a cumulative 365 days in space, and carrying 246 crew members into orbit.
Ronald Reagan National Airport.
9:55am
Bolted to the back of a 747, the space shuttle Discovery took its last spin in the air and coming to my direction.
Discovery is the world's most traveled spaceship and its list of achievements include delivering the Hubble Space Telescope to orbit, carrying the first Russian cosmonaut to launch on a U.S. spaceship, performing the first rendezvous with the Russian space station Mir with the first female shuttle pilot in the cockpit, returning Mercury astronaut John Glenn to orbit, and bringing shuttle flights back to life after the Challenger and Columbia accidents.
It flew right above me and hundreds of crowd cheered along.
It was a spectacular and amazing sight!
A little boy standing next to me told his mum excitingly :" Mummyyyy, it's so hugeeee!"
Discovery, the fleet leader of NASA's three surviving shuttles, completed its last spaceflight in March 2011. It was promised to the Smithsonian Institution's National Air and Space Museum in Washington, the nation's official repository for space artifacts.
"It's sad to see this happening," said NASA astronaut Nicole Stott, a member of Discovery's final crew. "But you look at it and you just can't help but be impressed by it. That's my hope now, that every time someone looks at that vehicle they are impressed, that they feel that this is what we can do when we challenge ourselves."
Gravelly Point and Reagan National Airport at the background.
Everyone stopped just for this moment.
"Did you see it?"
NBC was reporting live at the vicinity.
"It's a very emotional, poignant, bittersweet moment," said former astronaut Mike Mullane, a veteran of three space shuttle missions. "When it's all happening you think, 'This will never end,' but we all move on."
Discovery, which first flew in August 1984, was to be transferred to the Smithsonian's nearby Steven F. Udvar-Hazy Center in Chantilly, Virginia.
"I guess a chapter's closing," Steven Lindsey, commander of Discovery's final flight, said on the shuttle runway yesterday. "We were talking about it last night. We were calling it 'bittersweet,' or is it just bitter? Well, not bitter. But it's just sad to see it go."
Said Lindsey: "The good news is, it's going to a good home, and everybody's going to get to see Discovery for years and years and years in the future."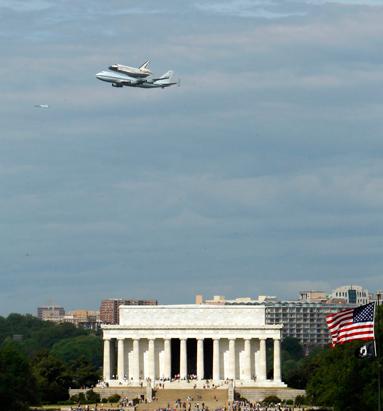 (This pic is from ABC)
For at least the next three to five years – until commercial passenger craft are available in the United States – NASA astronauts will have to hitch multimillion-dollar rides on Russian Soyuz capsules to get to the International Space Station.
And the debate continues on the NASA budget cut -and whether Russian or Chinese will overtake the U.S. in the space exploration.
Friday morning at Foggy Bottom Metro Station, Washington D.C.
Walking is my favorite habit in the U.S.
It's so powerful as you walk – you observe the surrounding, study the people and think critically. A ray of sunshine and a balmy breeze warm your heart with love. Life is full of possibilities.
I read a few great quotations about challenges today – and would like to share them with you.
"Life is a challenge, meet it! Life is a dream, realize it! Life is a game, play it! Life is Love, enjoy it." – Sri Sathya Sai Baba

"Although the world is full of suffering, it is also full of the overcoming of it." – Helen Keller

"To accomplish great things, we must not only dream but also act, not only plan, but also believe." – Anatole France
May you have enough happiness to make you sweet, enough trials to make you strong, enough sorrow to keep you human, and enough hope to bring you joy.
Welcome to this simple yet awesome blog.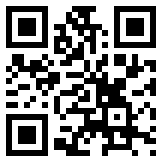 Cities I visited