I am always a big fan of science and technology, especially in things that move such as jet plane, air craft carrier and space shuttle. They are the vivid examples of what man can achieve and how our life can be changed with the advancement of technology.
When I first knew about space shuttle Discovery was going to fly historically over Washington D.C. – I made up my mind to go.
I took the metro early in the morning to Crystal City station – and walked on this trail to Gravelly Point, the best spot to see air planes taking off and landing at Washington Ronald Reagan National Airport. It was suggested as one of the nicest places to see space shuttle Discovery.
Discovery, NASA's oldest surviving orbiter, blasted off on its maiden voyage on August 30, 1984. It ultimately flew 39 missions, covering 148 million miles and 5,830 orbits, logging a cumulative 365 days in space, and carrying 246 crew members into orbit.
Ronald Reagan National Airport.
9:55am
Bolted to the back of a 747, the space shuttle Discovery took its last spin in the air and coming to my direction.
Discovery is the world's most traveled spaceship and its list of achievements include delivering the Hubble Space Telescope to orbit, carrying the first Russian cosmonaut to launch on a U.S. spaceship, performing the first rendezvous with the Russian space station Mir with the first female shuttle pilot in the cockpit, returning Mercury astronaut John Glenn to orbit, and bringing shuttle flights back to life after the Challenger and Columbia accidents.
It flew right above me and hundreds of crowd cheered along.
It was a spectacular and amazing sight!
A little boy standing next to me told his mum excitingly :" Mummyyyy, it's so hugeeee!"
Discovery, the fleet leader of NASA's three surviving shuttles, completed its last spaceflight in March 2011. It was promised to the Smithsonian Institution's National Air and Space Museum in Washington, the nation's official repository for space artifacts.
"It's sad to see this happening," said NASA astronaut Nicole Stott, a member of Discovery's final crew. "But you look at it and you just can't help but be impressed by it. That's my hope now, that every time someone looks at that vehicle they are impressed, that they feel that this is what we can do when we challenge ourselves."
Gravelly Point and Reagan National Airport at the background.
Everyone stopped just for this moment.
"Did you see it?"
NBC was reporting live at the vicinity.
"It's a very emotional, poignant, bittersweet moment," said former astronaut Mike Mullane, a veteran of three space shuttle missions. "When it's all happening you think, 'This will never end,' but we all move on."
Discovery, which first flew in August 1984, was to be transferred to the Smithsonian's nearby Steven F. Udvar-Hazy Center in Chantilly, Virginia.
"I guess a chapter's closing," Steven Lindsey, commander of Discovery's final flight, said on the shuttle runway yesterday. "We were talking about it last night. We were calling it 'bittersweet,' or is it just bitter? Well, not bitter. But it's just sad to see it go."
Said Lindsey: "The good news is, it's going to a good home, and everybody's going to get to see Discovery for years and years and years in the future."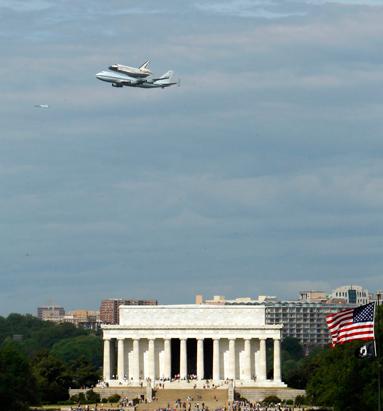 (This pic is from ABC)
For at least the next three to five years – until commercial passenger craft are available in the United States – NASA astronauts will have to hitch multimillion-dollar rides on Russian Soyuz capsules to get to the International Space Station.
And the debate continues on the NASA budget cut -and whether Russian or Chinese will overtake the U.S. in the space exploration.
Welcome to this simple yet awesome blog.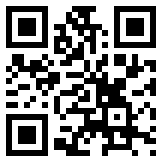 Cities I visited